Enhance your spiritual space's ambience with these unique pooja room lighting ideas mentioned below. As per our traditions and beliefs, we Indians desire to decorate our home pooja rooms with extraordinary lighting, which can help us during meditation and prayer.
According to Vastu, it is recommended that the pooja room in every home should be painted white, and the use of white light is also suggested to create a well-lit environment. Additionally, it is believed that natural light is crucial for enhancing the ambience of the puja room.
There is a broad selection of lighting options available to create a positive atmosphere in the pooja room, ranging from fancy lights and pendant lamps to chandeliers and ceiling lights. Our blog will offer you comprehensive insights into innovative lighting ideas for your pooja room.
In the past, traditional tube lights were commonly used to illuminate the home temple, but now, LED Ceiling Lights have become the preferred choice for most people. This is because ceiling lights are easy to install, cost-effective, have a long lifespan, are eco-friendly, are not harmful to the eyes, and provide even illumination throughout the area.
We believe that selecting appropriate lighting ideas for your home temple can enhance the charm and ambience of your sacred area. Without any more delay, let's explore the 5 creative pooja room lighting ideas that can help you create a peaceful and calm environment.
Pooja Room Lighting Ideas
1. Choose LED Strip Lights And Hanging Lights For Your Mandir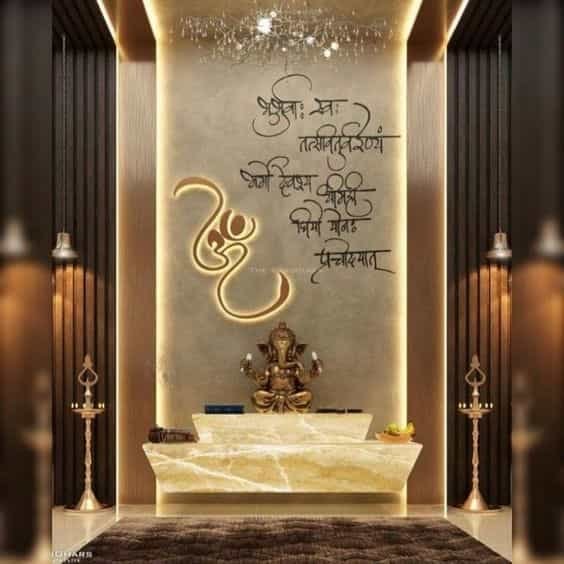 If you want to add a soothing touch to your home temple, LED Strip Lights are a great choice. These modern lights are easy to install because they come with a pre-applied self-adhesive on their backside.
They're also perfect for creating a positive atmosphere for meditation. You can easily bend or curve these flexible strip lights as per your requirements.
By installing the strip lights in the ceiling and along the wall corners, you can enhance the overall look of your puja room. Additionally, you could also hang lights from the ceiling for a more minimalist ambience. Here's a helpful tip: make sure to hang the lights at an appropriate height to ensure an even distribution of illumination.
We recommend using 4K natural light colour to illuminate all corners of your pooja room as per standard guidelines.
2. Add COB Lights In Your Pooja Room
If you're looking for elegant home temple lighting ideas, consider installing LED COB Lights in the ceiling. These lights have a compact and sleek design and can brighten up the room much more than traditional lights.
Installing these lights at an adequate distance can provide you with optimal lighting. If you prefer a simple and sober look in your puja room, just go for COB lights without any second thought.
These lights are affordable, easy to maintain, energy-efficient, and produce high-intensity light. They also have a longer lifespan. Here's a helpful tip: selecting the 4K natural light colour will give you the best possible lighting output.
These ceiling lights come in a range of sizes, shapes, and wattages, so you can choose the one that best fits your preferences to illuminate your small or large size pooja room.
3. Use Track Lights In Your Home Temple
LED Track Lights are a popular option for lighting up a pooja room because of their durability, versatility, modern design and uniform light distribution. You can easily adjust the direction of light upwards or downwards as required since these lights come with adjustable heads. If you want to highlight a particular area in your puja room, it's easy to do so with these ceiling lights.
Home temple track lights are available in various styles, wattage options, and shapes. So you can select the one that best matches your taste. For a brighter and energy-efficient lighting solution in a medium-sized home temple, we recommend considering 10W track lights.
For optimal results, we suggest using the 4K natural light colour to enhance the ambience of your mandir in just seconds. If you're looking for more information on LED Track Lights, our blog provides a comprehensive source of information that will surely educate you well.
4. Install Chandeliers In Your Puja Room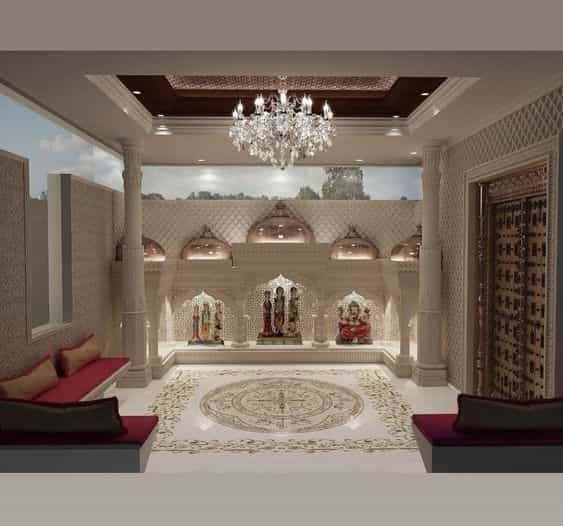 Are you in search of lavish pooja room lighting ideas? Look no further as we bring to you chandeliers that will elevate the ambience of your mandir surroundings.
Chandeliers are expensive, so they're great if you have a lot of money to spend on lighting. But if you're on a tight budget, pendant lights are a good option.
The main purpose for installing chandeliers in the pooja room is to elevate its overall atmosphere. If we can adorn our living rooms or dining areas with chandeliers, then why not also similarly decorate our home temples?
Illuminate your entire puja room within seconds by opting for chandeliers. While there are various options to choose from, we recommend selecting traditional chandeliers with 4K natural light colour to create a bright effect in your home temple.
5. Profile Lights For Your Pooja Room
Lastly, if you have a small size pooja room and wish to achieve an optimal lighting effect in that, profile lights are an ideal choice.
Unlike strip lights, you can't bend or curve these lights, so you need to place these in a single direction. These waterproof lights are covered in a translucent plastic tube, which enhances their vibrancy and creates a cool effect.
Profile lights are versatile and can be used to illuminate either the ceiling of your pooja room or the backside of the temple. These modern lights are easy to install, cost-effective, and have a longer lifespan.
There are numerous light colour options available in the market for you to choose from. However, we suggest opting for 4K natural light colour as it provides the best aesthetic look.
So, we have provided a solution for those seeking affordable home temple lighting ideas.
Frequently Asked Questions
Which light is best for pooja room?
COB Lights and Strip Lights are both great options for illuminating your pooja room. As they are easy to maintain, cost effective and offer high-intensity light output.
How many lamps should be lit in pooja room?
The number of lamps required to light up the home temple depends on the size of the pooja room, but as per the general guidelines, 2 lamps are more than sufficient to lit up the home temple. You can opt for more also but after installation, it will make the space appear congested.
Should light always be on in pooja room?
Yes, according to beliefs and vastu, the light in the pooja room should always be kept on. This is because light helps to create a positive atmosphere and absorb negative energy.
Can we put red light in pooja room?
To be frank, warm-white or 4K natural light colour would be more appropriate for your pooja room than red light.
LED Light Brands Available at Prayag Lite
Here are some different LED light brand products available at Prayag Lite, apart from our manufactured products.
Conclusion
These are some of the pooja room lighting ideas that you can use to improve the illumination of your mandir. We hope we have educated you well. If you want to buy the best quality LED pooja room lights at an affordable price, Contact Us today and get an estimate, including a heavy discount.