Every gamer dreams of designing a gaming room that reflects the energetic vibe of their gaming, but the process can be overwhelming and confusing. This article will present the top 7 gaming room lighting ideas to help you create an epic gaming experience.
The gaming industry in India is rapidly expanding, especially after the lockdown, and gaming has become increasingly popular among the young generation.
While in the past, many people were unaware of the financial benefits that gaming can provide, but now it is widely recognized that gaming, particularly through platforms like YouTube, can help individuals grow their wealth.
It seems like everyone who creates content these days wants to have a cool and trendy gaming lighting setup in their gaming room or behind them while they're streaming. They do this to make their live streams look more attractive and appealing to their viewers.
Having vibrant lighting touches in a dark-themed gaming room could make a difference. It can transform the atmosphere and make you feel like you're part of the game!
When choosing the lighting for your gaming room, there are a lot of factors to consider. Even a small mistake can ruin the vibe and mess with your gaming experience.
But don't worry! Our guide is here to help you make the best choice for your gaming room lighting. We have effective tips to enhance your overall gaming experience and create the perfect atmosphere.
Without any further delay, let's get started with the top 7 gaming room lighting ideas for an epic gaming experience.
Gaming Room Lighting Ideas
1. Go For LED Cloud Light Design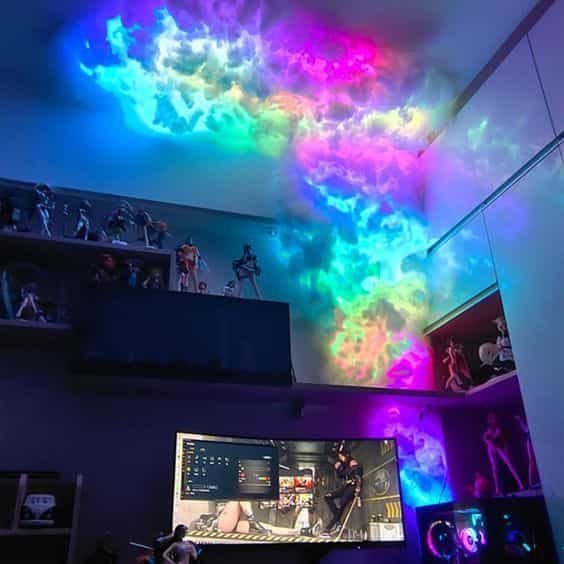 The modern LED cloud light design, which can be easily created using strip lights, is a trendy gaming room lighting idea, particularly favoured by the younger generation nowadays.
To create this adorable gaming light setup, you will need these below-mentioned five basic things:
LED strip light
Cotton
Adaptor
White chart papers
Glue
If you are a fan of dark-themed gaming rooms, this durable and versatile lighting setup is highly recommended for you guys. Installing it on the ceiling or behind your desk provides a cool look and a completely different atmosphere. According to the creator's experience, this design looks particularly awesome when installed on the ceiling.
Creators, use this elegant lighting idea for your gaming room and let it reflect your positive vibes to your subscribers now.
2. Elevate The Beauty Of Your Gaming Room With LED Strip Lights
For a simple yet elegant look in your gaming lighting setup, we suggest using LED strip lights. These lights are affordable, have a longer lifespan, are waterproof and heat-resistant, and can be easily installed wherever you want – whether behind your gaming setup, under your desk, or in the ceiling.
With a long-lasting self-adhesive on the back, strip lights can be easily attached to surfaces based on your preference. For the best experience, we suggest buying remote control strip lights, which allow you to adjust the vibe based on your mood.
Strip lights are available in various sizes and colours, so you should choose them based on your preferences to illuminate your gaming room. Based on our experience, strip lights with 60 LED bulbs per meter would be ideal for brightening your gaming setup.
For those who spend most of their time in their gaming room and are looking for top-notch gaming room lighting ideas, we have provided a solution for that.
3. Use Profile Lights In Your Gaming Room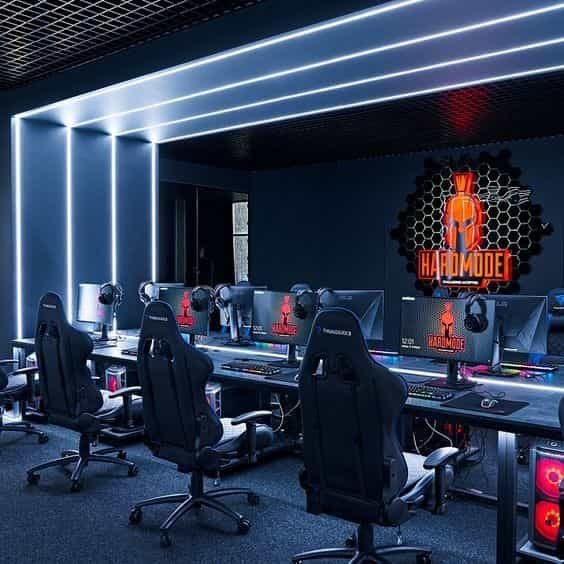 Profile lights are considered the most convenient way to enhance the charm of your gaming room. These lights are an upgraded version of strip lights, but unlike strip lights, they cannot be bent or curved.
Maintaining proper symmetry when installing these modern lights in your desired location is important to achieve the optimal lighting effect. Additionally, these lights are covered inside a waterproof translucent plastic tube, making them not harmful to the eyes.
With a wide range of profile lights available in the market, choosing the colour effect you want in your gaming room is up to you. However, we recommend considering neon or RGB light effect colours based on our expertise.
If you're looking for modern gaming room lighting ideas, these durable and easy-to-install profile lights could be an ideal choice. They can give your personal space a well-lit, appealing look.
For further information, please read our blog on what is profile light; it will surely educate you well on this topic.
4. Install Round Surface Panel Light Upon Your Gaming Desk
Since our previous discussion revolved around gaming rooms with a darker theme, now it's time to shed some light on those who prefer a white contrast in their gaming room.
If you don't like the RGB lighting effect and are looking for an alternative way to make your gaming room look fantastic, then we suggest you to try round surface LED panel lights.
Specifically designed to light up your desk area, these lights can help you concentrate better while gaming. With a lightweight design and high-intensity light output, these ceiling lights provide a brighter illumination that can elevate the overall appearance of your gaming setup.
We'd also like to point out that these lights can be a great alternative to ring lights. These modern lights are available in multiple colours and wattage options, allowing you to select the one that best suits your preferences. But we suggest choosing the 9W light that emits a white light effect for a brighter appearance.
5. Choose Track Lights And Floor Lamps For Your Gaming Room
We've included track lights in our gaming room lighting ideas guide to help you display your YouTube play buttons or favourite cartoon accessories to your subscribers. Additionally, you can use these lights to highlight your achievements, wall art, or any other decor you have in the room.
Track lights are a modern and stylish way to enhance the ambience of any room. Their adjustable heads make it easy to tilt the light in the desired upward or downward direction. With multiple options available in the market, we recommend choosing a 10W LED track light in a 4K natural light effect colour for a vibrant appearance.
In addition to the track lights, we highly recommend placing sleek body-standing multi-colour floor lamps in both corners of your gaming desk. This will significantly enhance the ambience and overall vibe of your gaming room.
If you want to learn more about LED track lights, check out our blog. It has all the information you need to know!
6. Add COB Lights In Your Gaming Room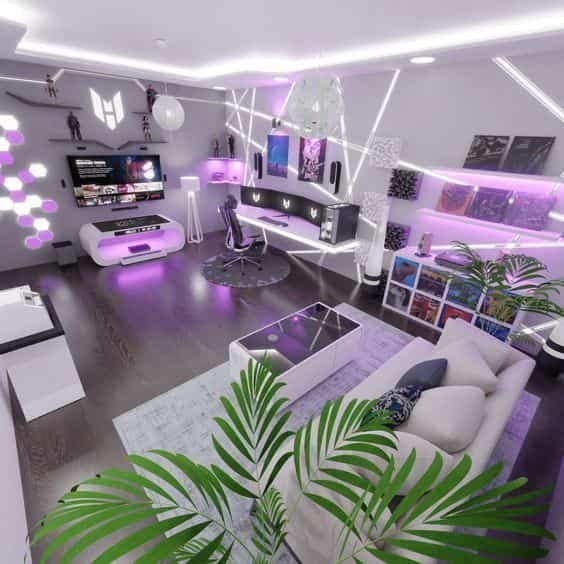 If budget is not an issue and you want to give your gaming room a classy white appearance, LED COB lights are a great option.
Compact and small in design, these lights are recommended for optimal lighting effects. They can provide high-intensity light output, which is why they are popular today.
Spending long hours in a dark room while editing videos or working on your computer can strain your eyes. Installing these COB lights in the right number and position can help you avoid eye strain and maintain your workspace more easily. They provide the perfect amount of lighting that you need to work comfortably.
Out of the many options available, we suggest selecting a 12W white and rose gold LED COB light with a 4K natural light effect colour to illuminate your surroundings.
7. Make The Most Of Hexagon Wall Lights
Let me share with you our last idea for gaming room lighting. It's trendy these days among the young generation – hexagon wall lights! These touch-based and remote-controlled RGB lights can elevate your gaming room's overall look and feel. So, if you're looking to add style to your gaming space, these hexagon wall lights could be just the thing!
With their warm lighting effect, these lights can create a cozy and relaxing atmosphere around you. You can easily mount these modern lights on the wall for a stylish look. These lights are available in different sizes and colours and can light up your room in a way you like.
Frequently Asked Questions
What LED Colour is good for gaming?
The choice of lighting for gaming ultimately depends on the gamer's preference. However, using white, warm white, or RGB lighting effect colours are generally recommended for a wonderful gaming experience.
Do LED lights improve gaming?
LED lights while gaming can help you maintain focus and avoid losing concentration, resulting in improved gaming performance.
Why do gamers use LED lights?
The main purpose of using LED lights in the gaming room is to create an attractive atmosphere, which can boost positive vibes and enhance the overall experience of the creator.
Which is the best gaming room lighting idea?
After considering all the relevant factors, using COB lights and profile lights in your gaming room is the best lighting idea among the options listed above.
LED Gaming Light Brands Available at Prayag Lite
Apart from our manufactured products, some different LED gaming light brand products are also available at Prayag Lite:
Conclusion
These are some of the gaming room lighting ideas you can use to enhance the vibe of your personal space. We hope we have educated you well. If you want to buy the best quality LED gaming lights at an affordable price, Contact Us today and get an estimate, including a heavy discount.