Hey gamers, are you looking for a trippy lighting solution to give your gaming room an energetic look? Here we are presenting in front of you – LED Cloud Light. The most modern ceiling light design among the young generation these days.
This is one of the most adorable designs that gamers are going after. With this guide's help, you will know how to make led cloud lights and how to fix them in the ceiling easily, step by step.
Make your live streams more attractive with LED Cloud Ceiling design. You know what? Lighting plays a major role in any stream. Whether you are a gamer or a movie lover, high-quality and good light effects will help create a cozy atmosphere around you.
Thus, architects are also focusing much more on lighting these days to give your personal room a fresh and elegant look. We know creators want to design their rooms as per their choice, and our effective guide will act as a cherry on the cake for them.
We have mostly seen gamers like dark theme gaming rooms, including RGB lights, so the room can reflect their vibe. But nowadays, for a vibrant touch, creators are installing LED Cloud Lights in the ceiling to create an ultimate scenario around them.
We are damn sure that this type of LED Cloud Ceiling design will surely attract your subscribers while streaming. So, if you want to adapt this design but don't know how to make this Led Cloud Light, our guide will help you provide every solution you are looking for.
So let's get started with it…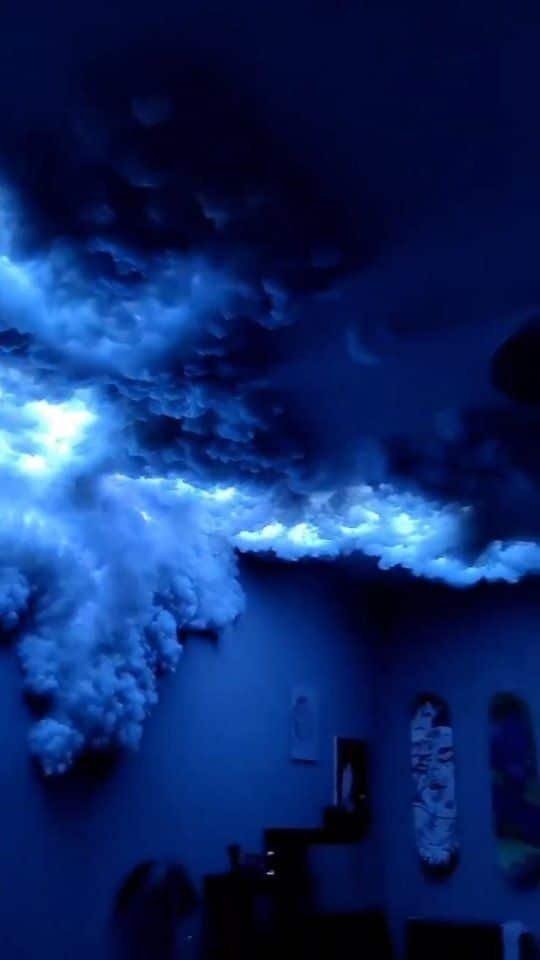 What is LED Cloud Light?
LED Cloud Light is a modern ceiling lighting design consisting of LED Strip Light in combination with a high power supply adaptor covered with cotton pieces.
This ultimate design is a mixture of five elements:
LED Strip Light
Cotton
Adaptor
White Chart Papers
Glue
1. LED Strip Light
Finalize your LED Cloud Light design first, so you can get an exact idea; of what meter strip light should be fine for you. Apart from this, RGB strip light would be the perfect fit to create this unique design.
It's recommended to go for the remote control strip light to create the vibe as per your mood. A small tip: try to purchase high-quality heat-resistant and water-resistant strip light.
Please browse through our wide range of LED Strip Lights; Prayag Lite may be a new name for you in this market, but you can trust us because our product's quality speaks louder than words.
2. Cotton
Cotton is the second most important thing used to create your cloud design. Based on the size of your room ceiling or design which you have selected, purchase the cotton as per your requirement.
3. Adaptor
Adaptor is an intermediate that supplies power to the strip light. You can't directly plug the strip light into the socket. Try to purchase a high power supply adaptor with good quality.
Don't go for cheap quality adaptors; always purchase the best quality product with a long-term guarantee. You can also purchase superb quality adaptors from us, contact us today and get an estimate.
4. White Chart Papers
White chart papers are ideally used to give strip light a stronghold. It's recommended to paste these white papers on the ceiling first; only after this you should paste the strip light on them for a stronghold. Otherwise, you can directly paste the strip light on the ceiling if it suits you.
5. Glue
The last thing – with the help of which you can paste the cotton pieces and white chart papers on the ceiling is glue. A small tip: create a mixture of glue and water so the cotton pieces can easily get fixed on the ceiling.
Moving on, we will be discussing;
How To Make Led Cloud lights?
Step 1: Paste the white chart papers all over your ceiling with the help of glue.
Step 2: After finalizing the LED Cloud Ceiling design, create an outline on the white chart papers which you have just fixed on the ceiling with the help of a pencil so that it will be easier for you to paste the strip light on that.
Step 3: Remove the back-side tape of the strip light and start pasting it on the outline as per your design. You don't need to apply any adhesive to paste the strip light.
Step 4: Once you are done with this, connect the adaptor to the strip light under the guidance of an expert and keep it in a safe place; try to hide the adaptor in the cove of the ceiling for your ease.
Step 5: Ensure everything works fine after supplying the power to the strip light.
Step 6: Make the glue-water paste and keep it untouched for 5 minutes. After that, with the help of a brush, apply that paste to the paper you have fixed on the ceiling.
Step 7: Right after this, tear the small pieces of cotton, dip them slowly inside the glue-water paste, and start pasting it all over your ceiling.
So, this is how you can make the LED Cloud Light easily.
LED Cloud Light Designs
1. Wall Corner and Ceiling Design
Give your room corners a unique look with LED Cloud Light design. This modern and elegant design will surely attract all your guests and even help you enlighten your boring mood.
2. Fully Covered Ceiling Design
This is what gamers are looking for. This aesthetic cloud ceiling design adds a super cool touch to your gaming room. Now, reflect your cool vibe to your subscribers while streaming.
3. Ceiling Corner Design
Do you want to fill up the space above your wardrobes? Create this extraordinary LED Cloud Ceiling design, and out-glow your surrounding areas. This design is easy to create as you only need to paste the strip light and cover it with cotton pieces without applying any adhesive.
4. Fully Covered Wall Design
Want to try something new instead of those old-school wallpapers and texture designs? Have a look at this awesome LED Cloud Light wall design. For those who love a soothing environment, we are damn sure that this modern design will surely give you goosebumps.
FAQs
What are the advantages of LED Cloud Ceiling Lights?
Cloud Led Lights are not harmful to the eyes, there's no risk of breakage in them, and due to their durability and long lifeline, they are one the most lovable lighting designs. You can make this design easily in a few simple steps.
What do I need for cloud LED lights?
Cloud Led Light is a mixture of five elements:
1. LED Strip Light
2. Cotton
3. Adaptor
4. White Chart Papers
5. Glue
Conclusion
So, this was all about LED Cloud Light in brief. We hope we have educated you well. If you want to buy the best quality LED Strip Lights and adaptors at an affordable price, Contact Us today and get an estimate, including a heavy discount.