Do you also need help finding the best wardrobe lighting ideas to illuminate your closet area? Don't worry; we have created a list for you guys that will through some light on the top 7 wardrobe lighting designs for 2023.
Earlier, people used to ignore installing lights in the wardrobes, but the current situation is pretty much different – the young generation is aware of the benefits of placing lights in the wardrobes.
These days creators and influencers want a modern and bright walk-in wardrobe area to reflect their vibe, so for that purpose they need high intensity lights to illuminate the space properly.
But choosing the best light for wardrobe from a wide range is not a cup of tea for everyone. So we have discussed few wardrobe lighting ideas for your home below that you need to know.
Even if we consider the perspective of experienced architects, they also focus more on designing a well-lit wardrobe area to make you feel cozy and add a soothing touch to the atmosphere around you.
Some of you must be wondering, why we need to add light in a wardrobe when we have lights installed in our room?
The answer to this is; you can easily organize the things in a bright wardrobe, and it will be easier for you to access the stuff you need. Sometimes, we can't able to figure out the exact colour of our clothes in dark closets, so to solve that problem, bright light illumination is a must in wardrobes.
Give your wardrobe a fresh and enthusiastic look by installing the proper closet lightings in it. No matter if you have a walk-in wardrobe area or a small corner wardrobe in your room, the appropriate lighting can quickly transform the space and add an elegant touch to it.
Let's get started with the 7 best wardrobe lighting ideas.
Wardrobe Lighting Ideas
1. Corner Wardrobe Profile Lights
Installing corner profile lights in the wardrobe is a modern and classy trend that you must have seen at various places. This type of design is easy to create, affordable, and not harmful to the eyes.
With these wardrobe profile lights, you will get an option also to choose the colour as per your choice. But as per our recommendation, we suggest you should go for white or 4K natural light colour for an aesthetic look.
If you want to enhance the level of your wardrobe by one more step – you can add sensors to switch on/off the light automatically. It will save your time also and add a lavish look to the closet.
Placing the profile lights in every corner of the wardrobe will provide a well-lit appealing look that you have been missing out on for so long. For further information, please read our blog on what is profile light; it will surely educate you well on this topic.
2. Under Cabinet Wardrobe Profile Lights
Under cabinet profile lights would be a perfect fit for those who want a bright look in each wardrobe space. Say no to dark corners in your closet now. This wardrobe lighting is easy to install and provides a well-distributed lighting experience.
In this modern era, profile lights have become so popular that they have left the craze of strip lights behind; they look more appealing to the eyes and can enlighten your dull mood within a few seconds with their warm effect.
With the help of these under cabinet cupboard profile lights, you can easily distinguish between the actual clothes' colour. Enhance the natural charm of your closet with one of our best wardrobe lighting ideas.
3. COB Lightings For Walk-In Wardrobe Area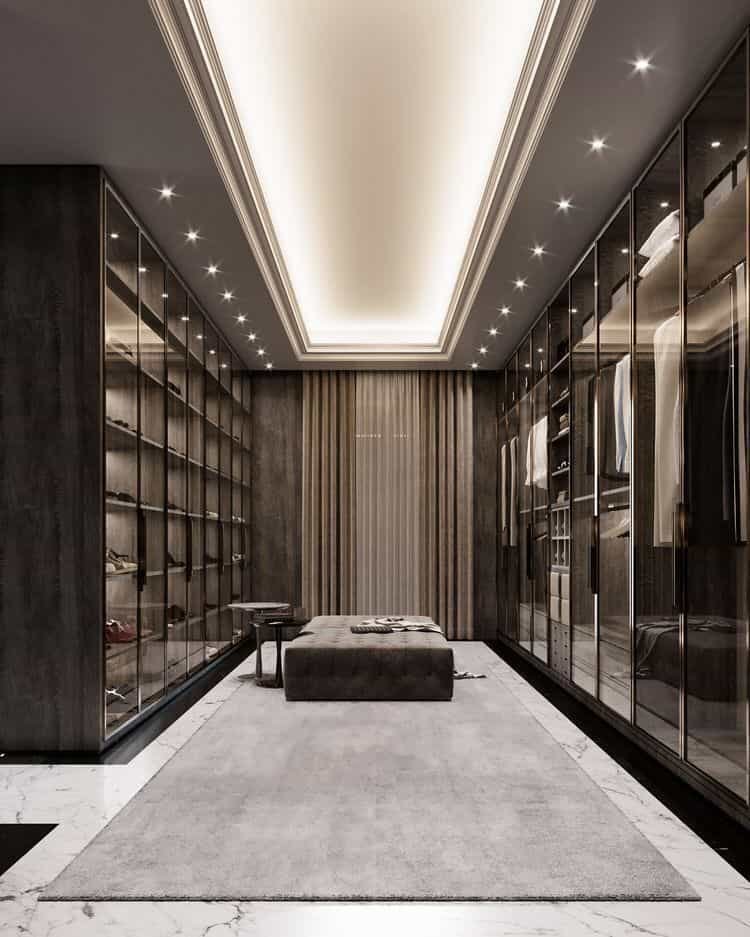 Until now, we have been discussing about the small wardrobe lighting ideas, but now it's turn to give a modern look to your walk-in wardrobe area with the help of LED COB Lights.
This closet lighting design is specially made for large-size walk-in wardrobe areas where you need a great light reflection. Installing the right amount of COB lights in the ceiling will add a touch of elegance to the entire room. Adding a fact, COB lights are much brighter than the other downlighters.
We have added COB lights in the room ceiling; now it's time to glow our wardrobe cabinet's inner area, so for that purpose placing 2W or 3W COB light in every cabinet would be perfect for brightening the space.
So, creators if you are planning to renovate your large walk-in wardrobe area, we suggest you to consider this lighting idea. Make your home tour videos more attractive now with this lighting design.
4. Walk-in Wardrobe Track Lighting Ideas
Investing in modern LED Track Lights will help you elevate the entire charm of your walk-in wardrobe area. You can easily adjust the angle of these track lights as per your requirements – so if you want to add a soft focus on a particular point in your wardrobe area, then it's simple with these ceiling lights.
Not only on the room ceiling, you can install these track lights in your wardrobe cabinet area also. These customizable closet track lights are energy efficient and great for lighting up the surrounding area around your cupboard.
For more information, please check out our blog on LED Track Lights; we hope it will educate you well on this topic.
5. LED Strip Lighting Ideas For Wardrobe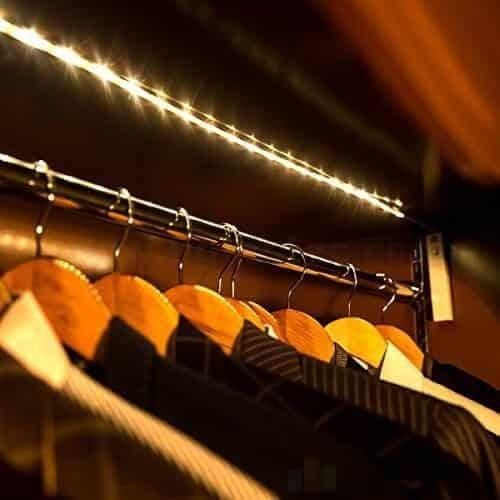 As we discussed about profile lights, LED Strip Lights are also considered as one of the best wardrobe lighting ideas. These LED strips are similar to profile lights. Unlike profile lights, these strip lights are not covered in a clear plastic tube.
These easy-to-install strip lights are available with pre-applied self-adhesive on their backside. So, you can paste them where ever you want in your wardrobe, like – on the bottom, on the hanging rods, or under cabinets as per your taste. Whether you have a small or large cupboard, these lights suit well with any of them.
The two main advantages of LED strips are; these are flexible, and you can easily bend or curve them as per your wardrobe design. But you can't bend or curve the profile lights.
Create your personal almirah space more aesthetic with these fabulous wardrobe lighting ideas.
6. Walk-in Wardrobe Chandelier Ideas
Finally, the time has arrived to enhance the interior beauty of your walk-in wardrobe area. For those seeking a modern look in their wardrobe, there is no other option than the chandeliers.
Chandeliers installed in the wardrobe area add a more wow look and increase the aura of the entire room. So, if you have a high-lighting budget, we recommend you should go for wardrobe chandeliers.
Selfie lovers, reflect your positive vibes now with this great wardrobe lighting idea. A small tip at the end; go for the 4K natural or white light colour for an excellent, bright effect.
7. Hanging Pendant Lights For Walk-in Wardrobe Areas
Last but not least, if you liked the chandelier lighting design but looking for an affordable solution now, we suggest you to choose the pendant lights for your walk-in wardrobe area.
Stylish hanging pendant lights, like chandeliers, can also enlighten the entire room within a few seconds. This lighting solution is less expensive, easy to install, more flexible, not too delicate, offers excellent light output and consumes less energy.
To add a more appealing look to your wardrobe, you can place a few flower pots in the corners depending on your vibe and taste. So, we have provided a solution for those seeking affordable walk-in wardrobe lighting ideas.
How To Choose The Right Wattage For Wardrobe Lightings?
Choosing the correct wattage for wardrobe lighting is a bit difficult for an average customer. So, we have mentioned some points below that you can keep in mind while purchasing the cupboard lightings.
Ideally, wattage depends upon the size of the wardrobe and the area around it – you can increase or decrease the wattage as per your needs. But still, if you want an approximate idea, then it's right here:
For wardrobe cabinets – COB lights ranging from 2W to 5W would be great.
For the large walk-in wardrobe room ceiling – several LED Track and COB lights ranging from 9W to 12W would be more suitable.
For corner, undercabinet wardrobe profile and strip lights – you can choose medium or low-wattage light; there are no such issues with that.
It would be best to prefer low-wattage lights for attached bedroom wardrobes, as they would be more comfortable.
For those wardrobe areas where you get a good amount of sunlight – you can go with low-wattage lights over there without any second thought.
Frequently Asked Questions
What is the best light colour for wardrobe?
White or 4K natural light colour is considered the best for wardrobes. Going for a white colour is more beneficial as it can enhance the charm of the entire wardrobe's inner area.
What kind of lighting is best for closets?
As per our recommendations, LED profile lights are the best for closets, as they are easy to install, affordable, and not harmful to the eyes.
Which brand's wardrobe light is best?
Prayag Lite is the best brand for wardrobe lights – our products are affordable, have a longer lifeline, are much more efficient and have the ultimate light quality with two years warranty and lifelong service assurance at your doorstep. Prayag Lite may be a new name for you in this market, but you can trust us because our product's quality speaks louder than words.
What is the most efficient lighting?
Wardrobe profile and strip lights are the most efficient lightings. Always buy a quality-based LED light, to enjoy high-intensity light output without worrying about high electricity bills.
LED Wardrobe Light Brands Available at Prayag Lite
Here are some different LED wardrobe light brand products available at Prayag Lite, apart from our manufactured products.
Conclusion
These are some of the wardrobe lighting ideas that you can use to improve the illumination of your closets. We hope we have educated you well. If you want to buy the best quality LED wardrobe lights at an affordable price, Contact Us today and get an estimate, including a heavy discount.