Give your home a fantastic look in 2023 with our Home Lighting Ideas guide. Prayag Lite aims to illuminate each corner of your room with our best-quality Modern LED Ceiling Lights.
Lights have become a basic necessity today; you know what, ambient light in your room can directly impact your mood. So, for a good mood and positive vibes, you need good quality and high illumination light in your room.
Remember how we used to depend on natural light for our sleeping and working schedules in the past, but now we have come a long way – by adding modern lights to our primary priorities.
Our team members have spent precious hours researching the Best Home Lighting Ideas for you guys so that you can give a unique look to any room in your house.
While researching the home lighting ideas, we also took some suggestions from gamers, offices, hotels, architects, and interior designers on what would be the best fit for each genre and what more they need to enhance the look. Keeping in mind their suggestions, we have created a list below that you will love.
We have researched Home Lighting Ideas for everything from bathrooms to living rooms, wardrobes to stairs. You name it, and we have it.
In this modern era, frankly telling, architects focus much more on lighting than other stuff because illumination plays a significant role in enhancing your home's decor. But still, some owners are neglecting the lighting part – they need to understand the importance of modern lights because the proper light illumination can light up your life with a single button press.
Prayag Lite Home Lighting Ideas For 2023 guide is more than enough for those who need to learn more about ceiling lights and how they work. We will explain everything from scratch, including the light's specifications and their benefits.
Don't worry if you are an antique or modern lighting lover; you'll find everything here from pendants to chandeliers, track lights to COB lights, and footlights to table lamps, etc., so that you can add a classy touch to your interiors.
If you are one of those, still living with the old traditional tube lights, the time has arrived; you need to upgrade yourself by incorporating modern ceiling lights into your daily life. Our home lighting ideas guide will help you choose the best light based upon your budget.
Before starting, we would like to mention that: "Currently, we don't have any online sales portal on this website, so for any type of queries, please contact us to get an estimate of the product with heavy discounts."
Home Lighting Ideas For 2023
1. Bedroom Lighting Ideas
A bedroom is a place where everyone wants to relax and get some positive vibes. You can install the modern profile lights behind the bed back, under the bed, or in the ceiling for a classy touch. Profile lights are an upgraded version of strip lights installed inside the aluminium chip plates so that direct light cannot affect your eyes.
You can add modern magnetic track lights and profile lights to the ceiling for better illumination. Investing in these home lighting ideas will help you elevate the charm of your bedroom within just seconds.
2. Wardrobe Lighting Ideas
In our guide, wardrobe lights play a significant role. A wardrobe area is a place where you need warmth light and focus at every corner for your makeup and other stuff, and this is only possible with the help of warm white profile lights and COB lights.
Profile lights in the ceiling and behind the mirror will give you an aesthetic feel, and COB lights provide a unique lighting effect. COB stands for Chip On Board – these modern lights are installed in the false ceiling, which looks similar to downlighters.
3. Kitchen Lighting Ideas
The kitchen area should always be white, whether we talk about light, paint, or the cabinets. According to our guide, consider LED Track Lights along with the under cabinet profile lights and COB lights to give a unique look to your kitchen.
Track lights are fixed on the tracks recessed in the false ceiling; you can easily tilt the face of this light manually with your hands as per your requirements. Track lights should be installed above the cooking area cabinets to maintain the soft light focus. In contrast, COB lights should be installed at every ceiling corner at a distance of 24 inches in the kitchen to throw the proper light, whereas profile lights in the kitchen act as the cherry on the cake.
4. Dining Lighting Ideas
The dining area is a place where modern families sit together to enjoy their meal after a long, hectic day. So, to make your dining space more attention-grabbing, add a chandelier or a pendant just above the dining table.
This will surely entertain your guests and make you feel good while having warm conversations. Apart from that, you can add small COB lights in the ceiling for more light illumination. You can also go for hanging lights to enhance the beauty of your dining area.
5. Bathroom Lighting Ideas
The modern generation is following the dark theme trend in the bathroom these days. So, to out-glow the dark bathroom tiles' color, you need to install the contemporary track lights in the ceiling and the evergreen profile lights. Modern track lights are so compact that they can be recessed in the roof/ceiling correctly.
These track lights offer a wide light angle and will add a minimalist touch to your bathroom, whereas, as per our lighting ideas guide, the main motive of profile lights is to improve the ambience of your bathroom area. Including this, you can add a small pendant light near the vanity area for an excellent shadow effect on your face.
6. Living Room Lighting Ideas
The living room act as the centre of attraction of your home for your guests mainly. For your small get-together, chit chats, or anything, the living room should be full of different lights to provide you with the best illumination. You can use COB lights, track lights, and profile lights for the living room.
You must be wondering, why didn't we mention the chandeliers here? The answer to this is: that chandeliers in the living room are an old-school idea, and with the help of our home lighting ideas guide – we want to provide you with modern designs to enhance the beauty of your home. COB light's primary motive in the living room is to provide ambient light illumination, whereas track lights are used to highlight any wall art or paintings, and profile lights are used to give a warm feeling to your living room.
7. Home Temple Lighting Ideas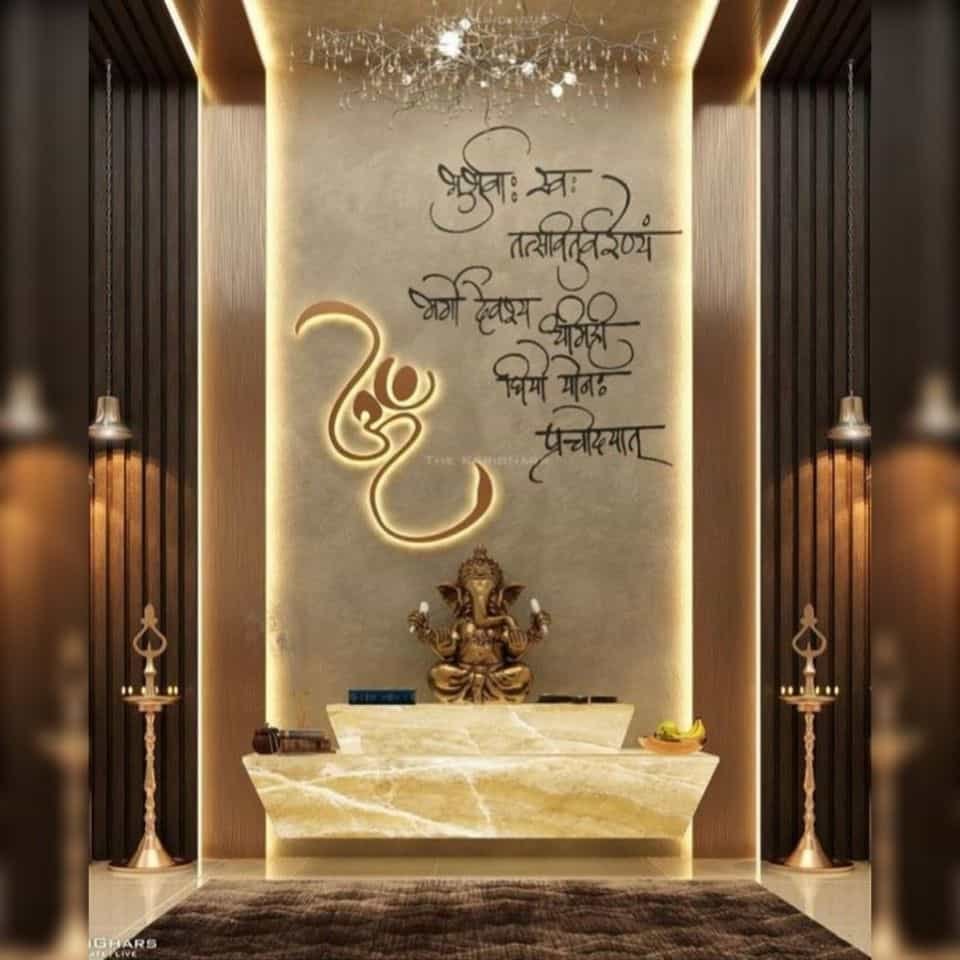 In modern homes, we Indians mainly want to give our home temple a unique look with traditional lights. So this can be possible by installing spotlights, ancient-design chandeliers, hanging lights, and profile lights in the ceiling.
Spotlights are recessed in the ceiling for vertical angle light highlighting. Profile lights are used to illuminate the area near the cabinets and the translucent PVC panels. In contrast, ancient-design chandeliers add elegance to the temple area, and hanging lamps create a delightful ambience.
8. Study Room Lighting Ideas
Based on our guide, consider using hanging lights, table lamps, and under-wall cabinet profile lights for your study room. Try to keep the theme of your study room white in color, The more bright the color, the more it will reflect the light.
Hanging lights can be used above your study table to provide a wide angle light illumination; table lamps can be used while reading or writing to give a light glow that is very much necessary to avoid eye strain, whereas profile lights under wall cabinets are required while working on a laptop to provide the functional light glow.
9. Staircase Lighting Ideas
Give your staircase a luxurious feel with these modern design footlights and spotlights which act as a highlighter on your staircase wall. These square body footlights are more than enough to add an elegant touch to your interiors. Install these footlights at an alternate stair step, and they will work as a night light for you in your home.
These footlights can also be used near your gate area. There are two types of footlights basically:
Sensor-based footlights – glow automatically as soon as it detects any foot motion.
Button press footlights – illuminate after you manually press the button.
10. Gaming Room Lighting Ideas
The gaming room is a place that every creator wants to design as per their needs. But our guide has a few things you need to know before designing your gaming room. Dark color gaming room needs colourful lights to give you the vibrant touch you've been looking for.
Prayag Lite's home lighting ideas guide believes that your gaming room must reflect your vibe, and the floor lamps are a perfect fit for that. Consider RGB (Red, Green, Blue) floor lamps and LED strips to create the ultimate atmosphere in your gaming area. Other than that, install the track lights just above your gaming setup so they can focus ideally on any of your wall art or design as per your choice.
11. Terrace Lighting Ideas
Last but not least, our lighting guide presents – the modern terrace design that is currently in trend. Who doesn't like to chill with their family or friends? If you have this type of terrace design at your home, then there's no need to go elsewhere to enjoy your day/night.
The compact body track lights, footlights, and two-way up-lighters give your terrace a fantastic look. Just install the track lights above your sofa set to focus on the table area and every corner. Round shape footlights can act as greenery highlighters, which makes you feel more cheerful, whereas two-way up-lighters can increase the whole look of your terrace with their fantastic lighting effect.
Home Lighting Ideas – Frequently Asked Questions
What are the benefits of good lighting at home?
There are two ways to answer this particular question:
First is: good lighting at home can help to improve your mood as well as will help in better sleep also.
Second is: good lighting can avoid eye strain, depression, and anxiety.
What are three questions to ask when designing a lighting?
Our guide will suggest a few questions to ask yourself before purchasing the new lights:
1. What budget do you have?
2. How many lights would be more than sufficient in your room?
3. What color do you want?
4. Does your ceiling has the appropriate wire connections?
5. How much electricity does particular light consumes?
6. Is the light environment friendly?
7. Does the light work on inverters?
Do you have some other home lighting ideas?
Yes, we do have many home lighting ideas. Soon we will publish another lighting ideas guide blog containing information about store rooms, balconies, entry areas, lounge areas, and much more.
How do I choose lighting for my house?
As per our lighting guide:
1. You should choose a bright illumination light with a broad light angle.
2. Consider the lights as per your room size, and avoid social media trends.
3. Try to use some sample lights before purchasing, as it will help you to check out the perfect illumination.
4. Go for only environment-friendly lights, which consume less power and don't affect your eyesight.
Can you mix lighting styles in a house?
Of course, today's generation mostly tries various lighting mixing trends in their rooms, as mixing can give an ultimate and elevated feel to any room of your house.
LED Home Light Brands Available at Prayag Lite
Here are some different LED Home Light brand products available at Prayag Lite, apart from our manufactured products.
Conclusion
We hope we have educated you well on Home Lighting Ideas For 2023. Still, if you have any queries, don't hesitate to contact us today.
WE ARE ALWAYS HERE FOR YOUR HELP !!!