Are you also seeking office lighting ideas to spruce up your workspace interiors? We have got a solution for you. As we know, lighting plays a vital role in our life, especially at our workspace. Nobody wants to work in that low and dim lighting effect. Poor lighting in the office can result in discomfort in the eyes, less productivity, mild headaches, and fatigue.
Because the office is where an employee has to spend half of his day, to maintain that same level of energy throughout the day, high quality and bright light illumination is a must.
But there are so many factors that an individual needs to understand while selecting the best-LED lighting for office. Varying from small meeting rooms to large workspace areas, you need to consider many aspects to create a healthy and creative office environment.
Thus, it's always said the higher the quality of light; the higher it will help to keep you energetic throughout the day. Do you know lighting can affect our mood also? So, it's always believed that for good and motivational office vibes, we need excellent quality and high illumination light at our workspace.
Our office lighting ideas guide will surely help you to give your workspace area a bright look. If you are considering renovating your home, our complete guide on how to choose false ceiling lights will educate you well on this topic.
Replace those old traditional tube lights with modern LED Office Ceiling Lights and stay focused at your work throughout the day. Let's start with 9 office lighting ideas to illuminate your workplace without wasting time.
9 Office Lighting Ideas
1. LED Track Lighting Ideas For Office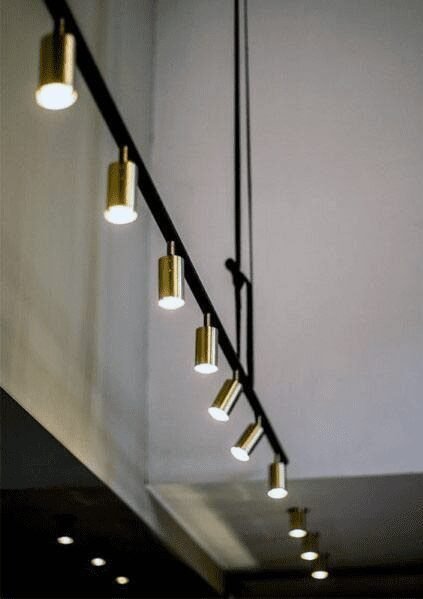 LED Track Lights are considered as one of the most outrageous office ceiling lights. These modern small lights are ideally used to focus on a particular area. These easy to install track lights are suitable for your office meeting rooms or above the office desk.
Or if you want to highlight your achievements wall, we assure you that there's no better option than these lights in the market.
Unlike conventional lights, these track lights can spread their light at a large angle without getting heated up quickly. So, if you are looking for a durable and long lifeline office ceiling light, then go for these lights without any second thought.
For more information, please check out our blog on LED Track Lights; we hope it will educate you well on this topic. Enjoy the ultimate lighting experience with these sleek body track lights.
2. Linear Pendant Lights For Office Ceiling
Upgrade the lighting in your office with these hanging linear pendant lights. These modern workspace lights are mainly available in two shapes – round and rectangular.
If your primary aim is to focus only on the desk areas, these lights are best for you. Unlike conventional lights, these linear pendant lights are not harmful to the eyes and can spread the light over narrow areas. Create a productive mood in your office with these LED Linear Lights.
Usually, you will find these office lights hanging downwards from the ceiling, so apart from hanging, there are two other options available in the market: surface-mounted and recessed.
Create a well-lit area around you with these LED Ceiling Lights, and out of these three, choose the right light for your desk areas as per your requirement.
3. Profile Office Ceiling Light Ideas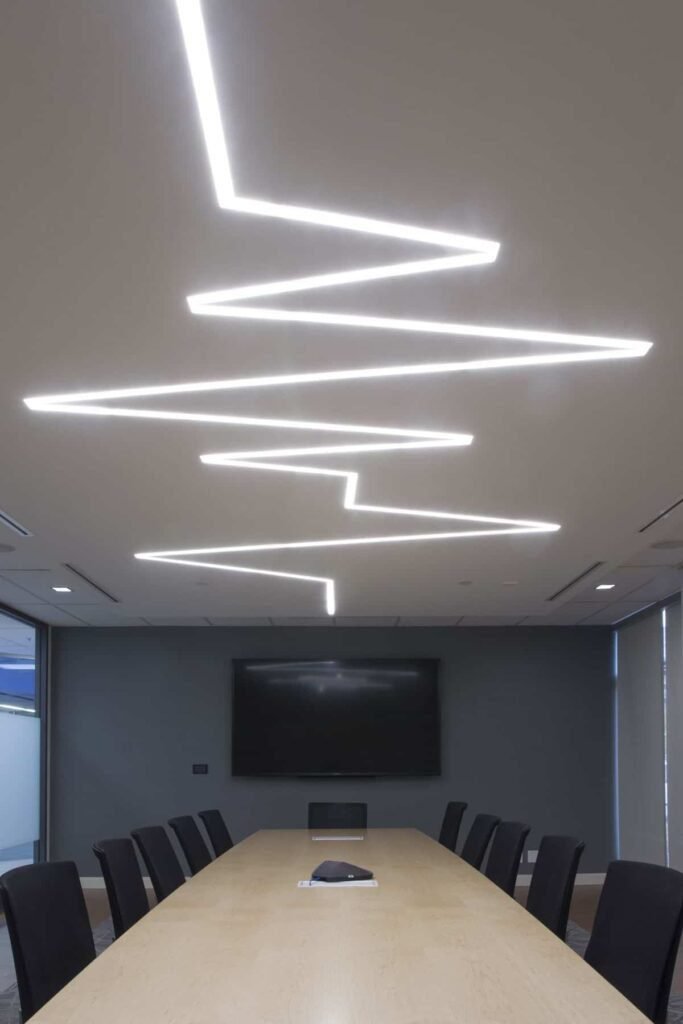 Give an enthusiastic touch to your office meeting rooms with LED Profile Lights. A meeting room is where you can discuss growth ideas or make important decisions, so these rooms are believed to be one of the most essential elements in any office.
Consider profile lights for lighting up your meeting rooms to reflect the positive vibes. These lights can add a soothing touch to the surroundings and spread the light at a large angle by creating an energetic environment.
You can create any design with these durable and long lifeline ceiling lights as per your taste or requirement. We highly recommend you to go for 4K natural or white light colour – as it will help to create the perfect working mood.
For more information, please read our blog on what is profile light; it will surely educate you well on this topic.
4. Wall Hanging Lamps For Office Lighting Ideas
These wall hanging lamps would be a great choice for those who don't have much space in their office to settle down hundreds of employees.
Create a warm and productive environment around your workspace with these office wall lights. These modern office lights offer a particular employee an option to easily adjust the light angle as per their needs to create a focused atmosphere around their desk.
Illuminate your workstation with a suitable amount of light while working. So, we have provided a solution for those seeking small office lighting ideas.
5. LED COB Lighting Ideas For Office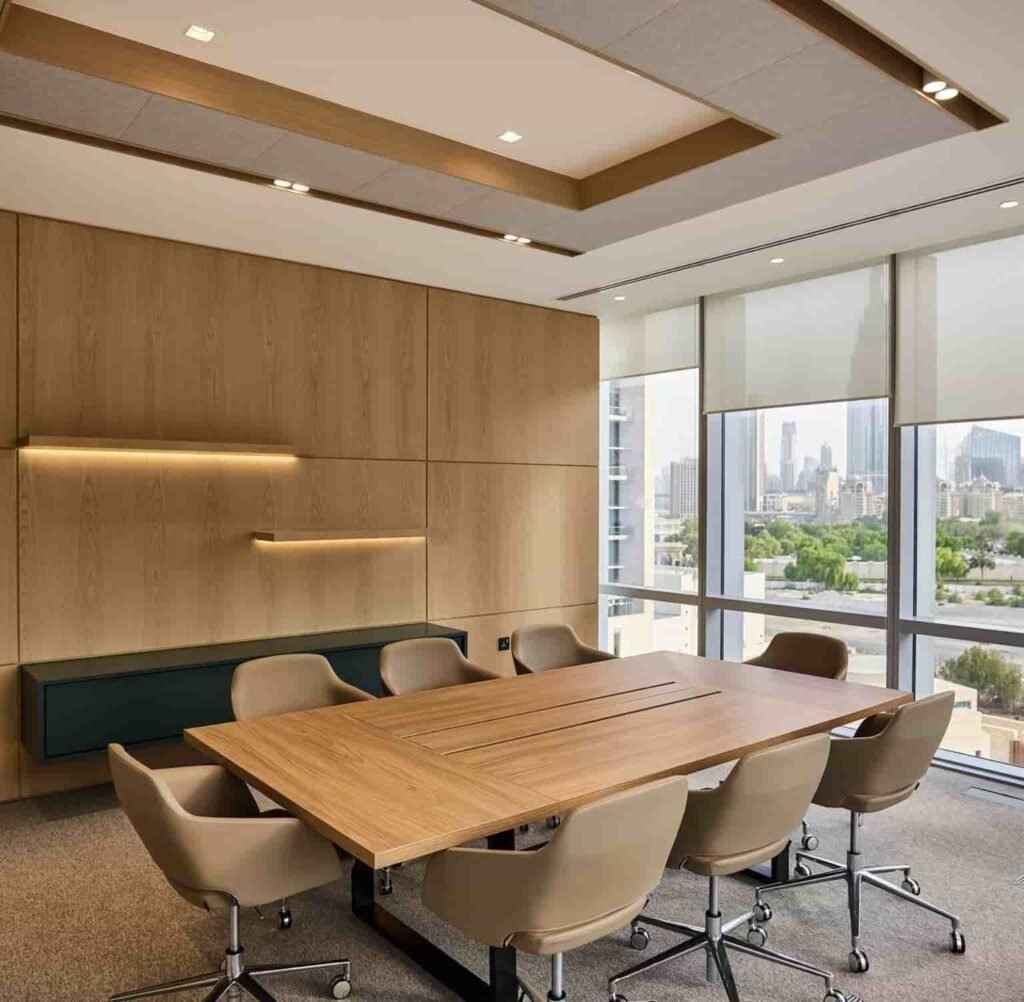 If you are looking for a commercial office lighting idea that is out of the ordinary ones, we recommend you should go for LED COB Lights. Installing a high-intensity office ceiling light is a great way to create a focused environment around your workspace.
For those who don't have a high lighting budget, COB lights are made for them – because sometimes it's unnecessary to install large ceiling lights in the office; placing these small ceiling lights correctly at an adequate distance will also provide ultimate light illumination.
We rated these ceiling lights as one the best in our office lighting ideas guide because these are affordable, easy to install, consume less power, and offer excellent light output.
6. Hanging Office Ceiling Lights Ideas
Do you have a separate small creative workspace area for your graphic team? Then have a look at these hanging office ceiling lights. Stylish hanging lights are ideally a superb choice to enhance the charm of your workplace.
Like designers need to show their creativity in each project every single time, so for them these cozy lights are pretty much necessary. Transform your old office lightings to a modern one to help improve the focus and productivity of the employees.
A small tip: go for the white light colour to get the proper and bright light illumination.
So, if you are looking for affordable and elegant office ceiling lights ideas, we have provided you with the answer.
7. LED Panel Lighting Ideas For Office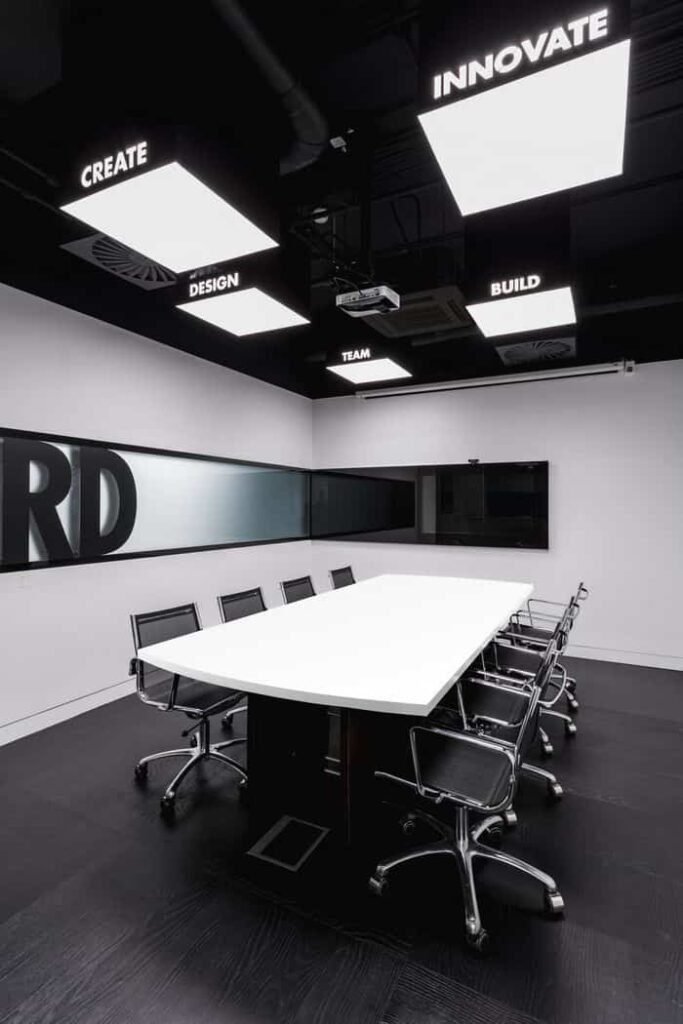 As we have already discussed a few modern office lighting ideas to illuminate the workspace area, finally, it's time to glow every corner of your office with LED Panel Lights. These office lights are considered as one of the most popular option to lighten up your whole workstation.
Say goodbye to the dark corners now. These large 2×2 size panel lights are the best and the brightest among all ceiling lights. Install these lights throughout your office and enjoy a fabulous and properly distributed lighting experience.
We recommend you to place these ceiling lights at least 2.5 feet apart from each other, so that the light shadow can spread to each corner in your office.
8. Chandeliers As Office Lighting Ideas
Installing chandeliers in the ceiling gives your office event room a fancy look. Reflect your positive office vibes to your guests and add a soothing touch to your office event/party room. Make your office event room a center of attraction for your clients.
The main motive behind adding these chandeliers to our office lighting ideas guide is that these are believed to be one of the most elegant and in-demand ceiling lights – whether we talk about any offices or studios.
A small tip: go for the small-size chandeliers as they are affordable and consume less power.
9. Magnetic Track Lighting Ideas For Office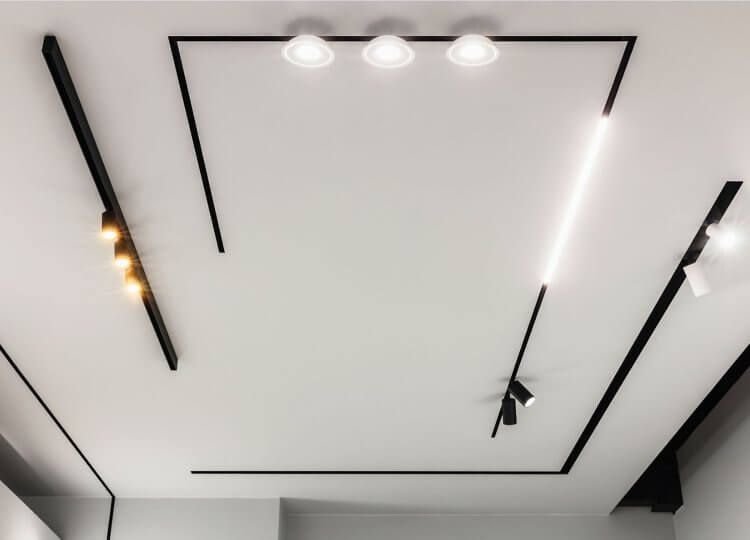 Working in the office all day is fine, but what about the restroom area? To make your employees feel more relaxed, we suggest you should install magnetic tracks in the office ceiling.
The benefits of these magnetic tracks are as follows:
You can easily add ceiling lights like – track lights, laser lights, etc., in these tracks, which are placed in the ceiling for sufficient light illumination.
You can move the lights in these tracks forward or backward as per your comfort level.
These magnetic tracks are perfectly suitable for your office pantry, corridor, and reception areas.
For more information, we hope this blog on office lighting design guide; will surely educate you well on this topic.
Frequently Asked Questions
What is the best lighting for an office?
LED Track Lights and Linear Pendant Lights are ideally considered as the best lighting for an office as they can spread their light at a wider angle and help maintain a focused atmosphere around your desk space.
What is the best lighting for a dark office?
LED Panel Lights are considered as the best lighting for dark offices. These large-size office ceiling lights provide an equally distributed lighting experience to each corner of your office.
Are LED lights better for offices?
Yes, based on the customer's experience, LED Lights help to create a better workaholic atmosphere in the office. These lights are not harmful to the eyes, are more environment friendly, and offer high-intensity light visibility.
How do you light a small office?
With the help of hanging office ceiling lights and wall-hanging lamps, you can quickly lighten up your small office. Placing these lamps at a proper distance will create a much brighter lighting effect.
What is the main goal of office lighting design?
The primary goals of office lighting designs are as follows:
1. Ensure more productivity among employees
2. Create a workaholic and focused environment
3. Provide a brighter light illumination for an energetic atmosphere
LED Office Light Brands Available at Prayag Lite
Here are some different LED office light brand products available at Prayag Lite, apart from our manufactured products.
Conclusion
These are some of the office lighting ideas that you can use to improve the illumination of your workstation. We hope we have educated you well. If you want to buy the best quality office ceiling lights at an affordable price, Contact Us today and get an estimate, including a heavy discount.